Susan Brooks: A Career In Politics In Her Words
July 2019
Writer // Janelle Morrison Photographer // Dauss Miller and submitted
Last month, U.S. Rep. Susan Brooks (R-IN05) created a political storm when she announced that she will retire from Congress at the end of her fourth term in 2020. First elected to Congress in 2012, Brooks and Rep. Jackie Walorski (R-IN02) were the first Republican women to serve the state of Indiana in Congress since 1959. Before winning the primary in May 2012, Brooks had been serving Americans and Hoosiers alike in a couple of different capacities: as Indianapolis deputy mayor under Mayor Stephen Goldsmith and as U.S. attorney under President George W. Bush from 2001 to 2007.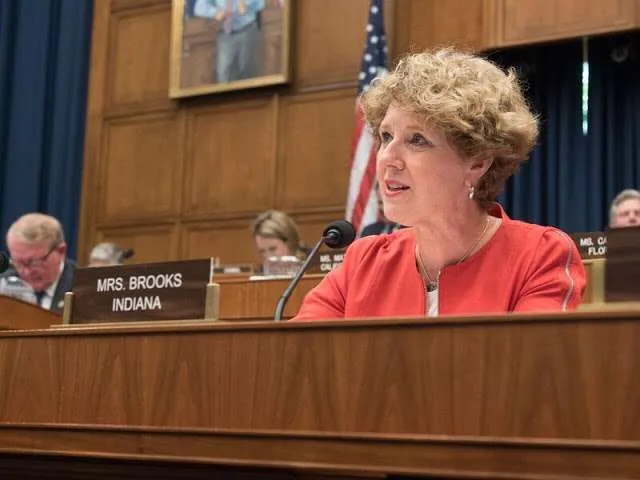 Brooks, who resides in Carmel with her husband, David, sat down with us for an in-depth review of her career, including some of the highlights and some of the challenges that she experienced. We also discussed what the future might look like for the congresswoman and her family.
The Role of Deputy Mayor of Indianapolis (1998–1999)
"I had been a criminal defense attorney for 13 years in private practice prior to Steve [Goldsmith] calling me," Brooks said. "He wanted someone in City Hall to be very focused on our city's homicide problem, which was huge back in the '90s. We were seeing unprecedented numbers of homicides in the city, and because I had a longtime practice in the criminal justice system but also had been very involved in a number of neighborhood organizations and nonprofits like Junior League of Indianapolis and other groups, he and his team asked me to join him at City Hall."
As deputy mayor, Brooks focused on public safety and children's health and welfare issues, and she worked extensively with the city's police and fire departments and first responders. Brooks stated that she learned a great deal about bringing innovation to city services and to local and state government under Goldsmith.
"I learned from the best during that time," Brooks said. "I just loved it. After that, I went to Ice Miller [LLP] as part of their government services practice group for about a year and a half."
At that point in her career, Brooks said that she never aspired to become U.S. attorney.
"I've always just taken it one position at a time," Brooks said. "I did think that it would be incredibly cool to be a mayor because I really enjoyed the work at City Hall, but my kids were ages 5 and 8 at that time, though they really enjoyed my job at the mayor's office. We did a lot of cool things, and they had a lot of fun with me when I was deputy mayor."
U.S. Attorney During an Unprecedented Time (2001–2007)
U.S. attorneys are U.S. Senate-confirmed positions, and confirmation, Brooks explained, can be a lengthy process. However, at the time that Brooks was going through the process, the nation had experienced a new threat, and the nation's capital had to adapt quickly to a new environment—a post-9/11 nation.
"As it happened, Steve [Goldsmith] was one of former President Bush's key domestic policy advisers during his campaign and was gathering experts from around the country to advise George W.," Brooks explained. "At that time, I was behind the scenes at Ice Miller helping Steve. The senior senator of the winning party chooses nominees and forwards the nominees to the White House, and Sen. [Richard] Lugar—who was in charge of the process—selected me. I was kind of a 'dark horse' candidate because there were some other people in the process that had been prosecutors. I had been a criminal defense attorney and a deputy mayor, but I had never prosecuted."
Further into the process, Brooks was nominated by U.S. Attorney General John Ashcroft.
"I go in for my interview with U.S. Attorney Ashcroft in June of 2001," Brooks reflected. "He says, 'How's Jerry Barr doing?' and I asked, 'Judge Barr?' It so happened that he was best friends with Judge Jerry Barr from Noblesville. I had appeared in front of Judge Barr, but I certainly didn't know him well. I replied with, 'I believe he is doing well.'"
During this exchange, Brooks was quickly searching deep within her memory bank, trying to recall how her cases went when she appeared before Judge Barr and whether or not she had irritated or impressed him.
"Afterwards, Judge Barr actually became a very good friend and supporter of mine," Brooks shared. "It's one of those things where you never know who you will encounter in your life. It's why I remind people that integrity and manners do matter. Be civil and polite and be good at what you do."
Brooks was nominated in July 2001 to U.S. attorney, but the U.S. Senate was out for the August recess, and she was told that it could take a few months to be confirmed.
"Then September 11, 2001, happened," Brooks somberly stated. "There were no presidentially appointed U.S. attorneys in place. At that point in time, I had no background in terrorism. I have an extensive background in other types of federal crimes and had practiced in the federal courts as a criminal defense attorney, but the whole terrorism realm was new to me and to most attorneys across the nation. I was confirmed as U.S. attorney less than a month later, and the Senate began moving confirmations quickly. Ashcroft brought all of us who were already confirmed to Washington, D.C., in November of 2001 and shared with us that our No. 1 mission was to realign our offices to be much more focused on preventing terrorism and on educating our communities and law enforcement on changing the way our country kept our homeland safe."
In the following months to come, Brooks would be part of the efforts in creating the Department of Homeland Security and the reorganization of federal law enforcement that led to the establishment of the Transportation Security Administration (TSA).
Brooks reflected, "It was a very important time to be part of the federal government."
The Decision to Run for U.S. Congress (2013–2020)
After her role as U.S. attorney, Brooks became general counsel and senior vice president for workforce and economic development at Ivy Tech Community College.
"Part of why I went there is because after six years of prosecuting big drug trafficking organizations and being very engaged in the overprescribing and prescription drug issues in my previous roles, I wanted to focus on getting people jobs because I feel strongly that if you have a good education and good opportunities—whether you're coming out of high school or are an adult that needs to go back for certain job skills or someone coming out of jail—we need to give people opportunities to improve their skills so they can get better jobs. If they have better jobs, they are less likely to commit crimes."
Brooks admitted that running for Congress was not her idea but the idea of two young students and GOP members who challenged her to "step up and consider running for office."
"I will never forget that call," Brooks said. "I talked with my kids, who were 18 and 21 then, who got really fired up about it. David was away on a fishing trip, but once he returned home, we were already in the 'yes' mode."
Brooks garnered the support of her family and friends, which would be critical for her through a challenging campaign process.
"Former Congressman David McIntosh and Dr. John McGoff were both already in [the race]. Those were the two big ones at that time, and other people were considering it. Once again, I got in as a 'dark horse' candidate. In 2012, Rep. Jackie Walorski (R-IN02) was the first Republican woman to go to Congress since 1959."
When asked what some of the most challenging times in her career were, Brooks shared an incident that challenged her not only as a representative but also as a mother and as a human being.
"The most challenging time was immediately after the Noblesville West [Middle School] shooting," Brooks said. "I went to the local farmers market that Saturday morning to get a sense of how the community was coping. It was the most difficult time, as it was such a horrific, emotional and difficult event. I still applaud the law enforcement in Noblesville, the superintendent, of course the teacher, the school nurse and the school resource officer who saved lives and who saved Ella [Whistler] and Jason [Seaman]. It continues to be a difficult issue for Noblesville to heal from, but they are healing."
In 2015, Brooks co-founded the School Safety Caucus, focusing on ensuring the safety of our kids while they are at school. Brooks, along with her "friend from across the aisle" Congressman Ted Deutch (FL-22), have reintroduced The Jake Laird Act, and both are determined to get it passed this time. This act provides grants to encourage states to adopt laws that require both due process and probable cause, enabling local law enforcement to remove and retain firearms from individuals who are determined to be a danger to themselves or others. Brooks and Deutch originally introduced that bill in May, just before the shooting.
"Ted and I have reintroduced the act, and since Ted is on the judiciary [committee] now, I think there will be some movement around what is also known as the 'Red Flag Law,'" Brooks explained. "We're committed and are going to keep working on that."
Brooks has been an advocate for countless issues affecting Americans and Hoosiers since completing law school in 1985. While her course has not been set for when she retires from public office, she did share it is highly likely she will continue to advocate for and advise on, at some level, the issues she has fought for on behalf of her constituents. She will continue fighting on those issues until that last day when she will turn the page on this chapter of her life as a public servant and the next chapter of her life will begin.
"The beauty about giving myself an 18-month runway, so to speak, before we finish is that we still have incredibly important work to do and helping my constituents will continue to be a top priority," Brooks emphasized. "There are so many important issues, and I will continue to bring attention to them. I truly love advocating for people, so in some ways I'll be involved in advocacy and advising. Though, I really don't know what the next chapter holds for me."
Advice for the Upcoming Generations of Political Leaders
Brooks is currently the recruitment chair for the Republican Party and will be actively recruiting young people, in particular, throughout the remainder of her term.
"I'm trying to get particularly women to think about this. They don't need to wait to be asked to run for office," Brooks emphasized. "They should look at their experience and think about what they can add to solving problems in their communities and being advocates. More often than not, women wait to be asked to step up and run for office and typically don't raise their hands on their own. I am trying to get more girls and young women to consider raising their hands, whether it's jumping into that race for student council or jumping into a race for a collegiate organization or trying out for captain of an athletic team. Go for being a captain, a president, a leader."
Brooks concluded, "I would like for women and young girls to value their experiences and leadership skills more than they do. I think this is really important. I didn't come into this job because I was a woman or to be a strong Republican female leader, but going out, I realize how incredibly important it is, and I'm going to be really focused on recruiting over the next 18 months young people, women and people of color because, as I've told my party, we need to do a better job of looking like the country."
For more information on Congresswoman Susan Brooks, visit susanwbrooks.house.gov.