More than Just Dolls
October 2018
Writer // Janelle Morrison       Photography // Laura Arick and submitted
Humans have been creating dolls long before Barbie® came into play. The earliest known dolls were made from clay, stone, bone, leather, wood or any available materials. Archaeological evidence from digs in places like Egypt, Greece and Rome places dolls as the oldest known toy dating back to prehistoric times.
Early examples of dolls were typically fashioned to resemble human figures, but there are also examples of early dolls that resemble animals. Even then, dolls were used as children's toys and in religious rituals. As the centuries passed, a market for dolls and doll collecting emerged among adults, creating a demand and appreciation for finely made "art" dolls – both vintage and modern day. The art of doll making has been passed down from generation to generation and continues to evolve with the current generations of young artists.
So, what is it about dolls that fascinates the human imagination? A doll is more than an inanimate object – it becomes a trusted companion to which a child can share its joys, sorrows and fears. For adults, dolls can be a form of personal and cultural expression. A doll maker can live vicariously through his/her creations and then create a story that can be shared with doll appreciators all over the world.
A talented group of Hoosier doll makers and skilled artists known as Indy Cloth Dollmakers continues the age-old tradition of doll making. The group hosts an annual Art Doll Show and Sale that showcases the members' dolls and other art creations made by the exhibiting artists.
This year marks the 16th year for the Annual Art Doll Show and Sale that will be held Saturday, November 17. Three local area members shared with us what makes the group and the show so unique and remarkable. Carmel resident Denise Dodd, Zionsville resident Maggie Carr and Katie Jones from Plainfield explained that the show is more than just a "doll show." It is an exhibition of its members' cloth dolls, fabric figures and mixed-media sculpture. Artists will be selling their hand-crafted dolls, jewelry, accessories and gifts in a wide range of prices. The show also creates the opportunity for attendees to meet the doll makers and learn more about Indy Cloth Dollmakers.
Dodd has been a member of Indy Cloth Dollmakers for 21 years and works in healthcare. She considers doll making her outlet. Dodd shared that the club brings in renowned doll makers to teach classes, including artist and author Eleanor Peace Bailey.
"The Indy Cloth Dollmakers had its beginnings in 1997 in the old Quilt Quarters shop," Dodd shared. "That's where the club got started. The club brought in Eleanor Peace Bailey to teach a class. In fact, I believe that she taught several classes. Eleanor is the 'mother of all doll makers.'"
The first doll making class that Dodd took was taught by the late Gloria "Mimi" Winer. Winer was an internationally renowned original cloth doll artist since 1983.
"Gloria passed away two years ago," Dodd shared. "Gloria was larger than life, and I miss her dearly. I recall Gloria helping me pin the face on a doll. She spilled her pins, and as she was picking them up, she started sticking them into her breast. I said, 'Gloria, what the heck are you doing?' She said, 'It's okay. I've had a mastectomy. I didn't lose a breast; I gained a pin cushion.' That was Gloria."
Dodd said that the club has grown to 31 members and continues to bring in highly regarded teachers and doll makers like Akiko Anzai. Even a few members of the club, such as Barbara Schoenoff, Kathryn Walmsley and Suellen O'Dell, teach classes at the club's monthly meetings.
Carr is the newest member of the club and spoke about the comradery within the group.
"I joined in 2012 and have been making dolls since I was a little girl," Carr said. "I even made them [dolls] for my parents, and I can still see them on their bed. I like sewing in general, but I have always liked my dolls and creating new ones. I like working with fabric and making garments. I love being in the group because it is hard to talk about some of these things that we [the members] love so much with your neighbor, for instance, because they're probably just wondering what you're even talking about."
Jones got her start in doll making at a convention in Ohio for Gene Marshall fashion dolls where attendees could design an outfit for a fashion doll and enter it into the competition. Jones entered her design in the amateur division and was awarded second place for her very first attempt. She sold that doll for $850.
"I was hooked after that," Jones said. "I joined the club in 2009 after I retired and have always loved to sew, mostly clothing. I love to paint and anything artistic. You can live vicariously through the clothes that you make for your dolls. That first competition, I created a coronation gown for the doll as though she was supposed to have been at the coronation of Queen Elizabeth II. When I retired, I made my first doll and entered it in a competition at another convention in Ohio, and she won 'People's Choice.'"
It was at that convention that Jones met five other ladies from the Indianapolis area who were members of Indy Cloth Dollmakers. Jones returned home an award-winning doll maker and a new member thereafter. "I went all the way to Ohio to find this club in Indianapolis," Jones quipped. "And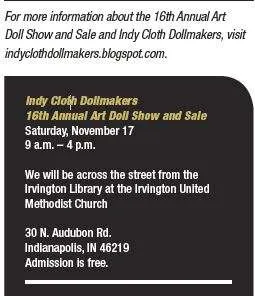 I've been in love with doll making ever since."
Indy Cloth Dollmakers is also involved in making charity dolls for Children's Bureau, Inc. – Adoption and Foster Care.
For more information about the 16th Annual Art Doll Show and Sale and Indy Cloth Dollmakers, visit indyclothdollmakers.blogspot.com.