Midtown Holiday Home Tour
October 2017
The goosebumps on the back of your neck might not be from cold weather when you attend the 2017 Midtown Holiday Home Tour Saturday and Sunday, November 11 and 12.
At Tuckaway House, attendees dive into not only the historic details of the house itself but also into historically significant events that took place in the home. Located in Historic Meridian Park, Tuckaway House was a hot spot for the Hollywood elite in the 1930s.
Celebrities including Amelia Earhart, Carol Lombard, James Whitcomb Riley, Walt Disney, and many more visited the Pennsylvania Street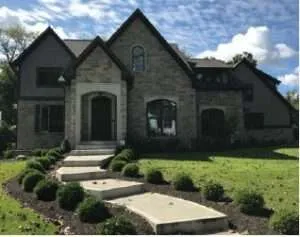 home to have Nellie Meier practice her art of "scientific palmistry." It's not hard to dig up a ghost story that involves the atmospheric bungalow and the current owners have kept the interior of the home true to its original roots.
Guests on the Midtown Holiday Home Tour will be able to examine ink palm prints and signed photos left behind by Nellie's clients while learning more details about the home itself. "People are going to be talking about Tuckaway long after the tour," Keelee Slack, Program & Events Coordinator at Midtown Indy said. "To play up the ambiance and history of the home, we're bringing in a palm reader. We hope people will grab a beer and a snack while they wait to have their fortunes told."
Tuckaway House is just one of five homes featured on the 2017 tour. Guests will be wowed by the exquisite craftsmanship at a Meridian Street home from the 1900s whose many charms include an Italian marble fireplace that predates the home by 100-years and will be able to walk through a brand-new custom build completed last year in the coveted Meridian Kessler neighborhood. A mid-century modern condo unit and a breathtaking historically restored estate round out the homes on tour.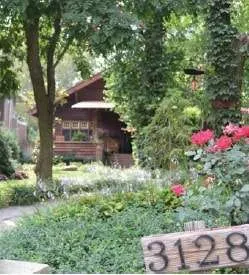 For the second year, food and beverage stations will be set up at each home from 11 a.m. to 3 p.m. on both Saturday and Sunday.
"We received such positive feedback on the food and beverage stations at last year's event that we have expanded the program and brought in more than 10 local vendors for this year – including a wine vendor, which was sorely missed last year," Slack said.
Tickets for the 2017 Midtown Holiday Home Tour are $15 in advance, $20 at the door and details are available at www.midtownindy.org
Midtown Holiday Home Tour Details:
Saturday and Sunday, November 11 & 12
11 a.m. to 5 p.m. Food & Beverage Vendors from 11 a.m. to 3 p.m.
Homes on the 2017 Midtown Holiday Home Tour:
3148 N. Pennsylvania Street
3128 N. Pennsylvania Street 4000 N. Meridian Street,
#2EF 99 W. 54th Street 4137 N. Meridian
Street Vendors on the 2017 Midtown Holiday Home Tour:
Flat 12
Gallery Pastry
Simplicity Holistic
Diavola
Union Jack Pub
Illinois Street Food Emporium
Tiny House Treats
Vine & Table
Table Happy Brewing Co.
Hoi Tea Toi Tea
Bent Rail