Palladium Spotlight: India.Arie The Worthy Tour
The Palladium // Wednesday, May 29, 7:30 p.m.
Writer // Janelle Morrison Photography // Benedict Evans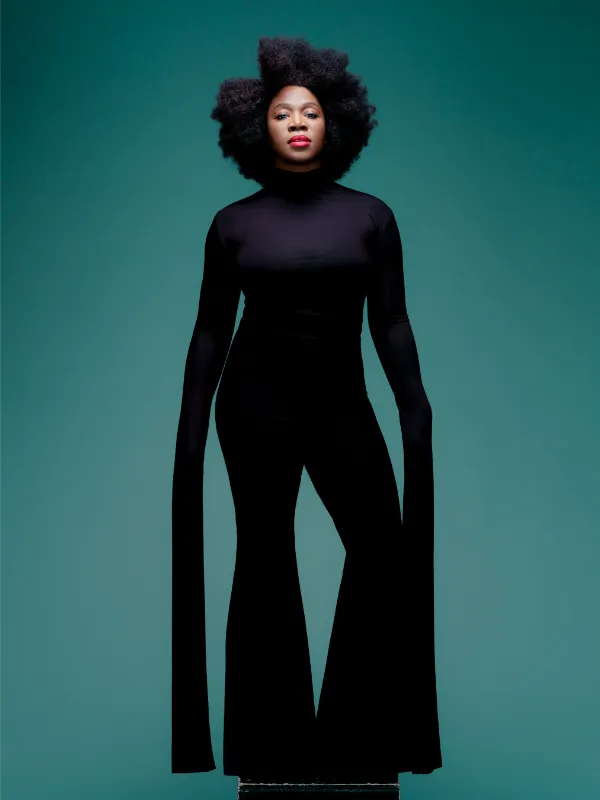 Singer-songwriter India.Arie helped launch the neo-soul movement of the early 2000s and remains a pillar of contemporary R&B with her engaging grooves and thoughtful, positive lyrical messages.
Arising from Atlanta's rich music scene, Arie earned seven Grammy Award nominations with her 2001 debut release, "Acoustic Soul." She has continued with a string of successful albums (five consecutive Top 10s) and collaborations with artists as diverse as John Mellencamp and Stevie Wonder, whom she accompanied on his historic 2015 Songs in the Key of Life Tour.
Among many other awards, Arie's 21 Grammy nominations have brought four wins, including a Best R&B Album nod for her 2003 release "Voyage to India."
Among her accomplishments and accolades are 10 world tours, millions of records sold, five Top 10 albums (including her No. 1 debuting 2006 release, "Testimony: Vol. 1, Life & Relationship"), numerous NAACP Image Awards, BET Awards, MTV Awards, command performances for three U.S. presidents (receiving public praise from President Clinton and President Obama), as well as working alongside her mentor Stevie Wonder, including sharing the stage in his history-making 2014–15 Songs in the Key of Life Tour.
She also met the Dalai Lama and toured the National Civil Rights Museum with him in Memphis, Tennessee. Arie was inducted into the Georgia Music Hall of Fame in 2009 and has joined Oprah Winfrey on multiple projects. She was also chosen by Winfrey's OWN Network for their SuperSoul 100 list in the Change Makers and Wisdom Teachers category.
Arie is touring nationally in support of her new, eighth album, "Worthy," featuring the singles "That Magic," already a Top 10 R&B hit, and "What If," a tribute to civil rights pioneers Dr. Martin Luther King Jr., Rosa Parks and many more.
Each ticket purchased for this show includes either a free digital download or CD copy of India.Arie's album "Worthy." You will receive an email with more details about this offer approximately seven days after your purchase. For tickets and details, visit thecenterpresents.org.
I spoke with India.Arie about the new album, "Worthy," what she learned about herself during her three-year hiatus from touring and, of course, who are some of her mentors and sources of inspiration. Arie is a soulful, brilliant and multilayered artist whose timeless message that we are all "worthy" makes her music relevant and multigenerational.
It's been a few years since you last toured. How's the preparation going and how difficult or easy is it to get back into the swing of being on the road?
I wouldn't say it's easy to get back into the swing of things, but I'm ready, so I'm making it work. I'm looking forward to touring. It's hard, but it gets easier each time you do it. I'm getting prepared and still learning a lot.
Looking back over the last three years, what were your experiences that led to the creation of "Worthy"?
It's funny, this era of recording "Worthy" is not the first time that I've been through a lot of hard lessons. When I was younger—in my early 20s—I came out with my first album [2001, "Acoustic Soul"]. I didn't really know what the rhythms of life were. And so, I just took it as I was learning these hard lessons.
Most of the time writing and recording this album, I was in a relationship, long term for me. That brings this whole set of lessons, as any adult knows. The songs on this album, anyone listening to them can hear the things I've been thinking about. Outside of the subject matter of the songs, I have also learned a lot about writing and producing albums for myself.
When I started working on this album, "Worthy," I didn't actually know that I was going to make another album. I wasn't chomping at the bit like I had been in the past to make an album, and I didn't have this whole stack of songs and saying, 'Let's get it popping and get this album done.' But I knew that I wanted to make another album because that's what I do, but that's all I knew. I didn't know if it was going to be completed or start gaining momentum.
You did complete the album, but it is unlike any of your previous albums. What "lesson" did you learn in the process of producing this album that has changed your overall state of being?
I made an album much different than anything I thought I was going to make. I learned what it means to surrender, I guess. Maybe that's the overall lesson of these last three years. I learned to love. I learned how to surrender love when it's time for it to be over. I surrendered to the music, and to the songs. I moved to another state, and I surrendered to that. I'm surrendering to something new. It's been an interesting era. Ten years ago, I would've been under the bed, afraid of what's going to happen and all that. But now, I just feel like it's life and I'm ready to deal with whatever's coming.
What does "Worthy" mean to you?
In the process of making my last four projects, I've been able to be empowered and not have to search for it. I think that comes across in my music in the way that I am able to better articulate a message of empowerment and not talking about searching for it. I'm talking about being it. I think that's the beauty of the word "worthy." It's all-encompassing. Telling someone "You're worthy" is not saying "You're good at what you do" or "You're pretty" or "I like the sound of your voice." Telling someone "You're worthy" is basically saying "You deserve to exist." I don't know if that word would resonate with me the way that it does or that I could write a body of songs about it the way I have if I didn't understand that [the meaning] for myself.
What do you hope people take away from the "Worthy" album?
I want people to get whatever they're meant to get from it, but I feel that some people need to be reminded [they're worthy] because there's messages everyday all over TV and social media that teach us we need to be a certain thing to be "worthy." I wanted this album to be a reminder and a message to anybody who never heard someone say, "No, no, no, the world will tell you different, but you're worthy, you're significant and you matter because you exist."
I want it [the album] to be a voice of that, but also, I just love the word [worthy] and I want it, through me, to be something that's living in the world for a while.
At this point in your career and life, you have gained more insight and more control over what direction your work is going. How has your message evolved now that you are in complete control of it?
I can never say what anybody gets from a song. I can really only speak to what my intention is because people get different things, which is the beauty of music. I know for me, my intentions in those first two albums were to express myself and to do it in a way that I knew I would feel good about what I was saying. In the beginning, it was theoretical that I would be singing these songs for the next 20 years. I hoped that people would want to hear them 20 years later, but I didn't know.
At some point, I decided that if I was going to be singing them for the next 20 years, I want to be able to phrase things in a way and use words that are empowering to me. Until I had reached my third and fourth project, it felt more like I had things that I needed to get off my chest. By the time I got to my "SongVersation" album, I had been through so much growing up that I understood, just from experience, how words can affect people.
The notion of being in this industry for 20 years is no longer theoretical for you. What does it mean to you to still be creating and producing songs for another generation of fans?
In the beginning, it was my hope and wish that I could be around for 20 years, but inside of that wish was all the stuff you can imagine. Maybe people's children will grow up on my music or maybe people will walk down the aisles to my songs or maybe somebody will say I taught them something—because that's what the music I love does for me. It's taught me things about life and is a part of my actual life. I hope that I can be that for someone.
With "Worthy", I want to continue to let people in on my process and where I am in my life and what I'm thinking about. For anybody who's been with me these 20 years, I want them to continue to walk my journey and my growth with me. But also, people who are younger and just learning about life, I want to be something they can turn to that has that [positive] energy in it.
There's lots of music coming out every day. Music is so different right now—the things people are saying and think are OK to say, especially with how much candid talk [there is] about drugs and what kind of drugs people take. For me, that's one of the most shocking things right now, and I want to continue to be an alternative voice. People can listen to what they want to listen to, of course—whatever they find entertaining.
I want to be something that can be on their shelves too. For their quiet moments or Sunday mornings or when they're struggling with something.
You have mentioned that some of your mentors include your mom and Stevie Wonder. [Arie's mother, Joyce Simpson, was a Motown singer who opened for Stevie Wonder and Al Green.] How have they impacted and how do they continue to impact your personal and professional development?
Yes, my mom is a vocal talent, but she also taught me how to write songs. I watched her write songs, go into the studios, and produce and record them. My mother makes all my stage gowns and my stage clothes, and she's also a person that I can count on. She never asks me for things. She doesn't ask me for money. She doesn't use me or try to get me to sign things for her friends or get [me] to show up to places so she can look cool—she doesn't do any of that. My mom is grounded, and she's what helps me to be grounded. She taught me everything I know. She supports me in everything.
And Stevie [Wonder] too—just the fact that he wants to be there for me is an inspiration. He's my favorite artist—period. Not just [as a] musician, he's my favorite artist. For him to be available for me to ask questions or to vent about things or even to talk about personal stuff, relationships and all that, is inspiring, just because who doesn't want their favorite artist to be on their side?
What do you enjoy when you're not performing and creating music?
Another thing that is really important to my life is travel. I learn so much through the people that I meet. I've had conversations with all kinds of different people. I've talked with old African priests and had a chance to talk with Maya Angelou on several occasions. I got to talk to Nelson Mandela one time.
Oprah has been a source of inspiration and mentorship. [Arie appeared with Oprah Winfrey on OWN's "SuperSoul Sunday" television show, conducted a 25-minute "SongVersation" on Oprah's "SuperSoul Sessions" and showcased her" SongVersation" on Oprah's Share Your Adventure Cruise.]
Anytime I email her about something, she answers back, right away. She's always so cool. I emailed her the other day—it had something to do with diet—and she answered me right away. I've also been able to learn a lot from different elder musicians.
I remember having a conversation with one the of Temptations and once with Tony Bennett. He's inspiring, as you know. I talked with him one time outside of a hotel and just what he said [in that conversation] got me straight about some things. Some people I talk to periodically and other people just have the perfect words at the perfect time, and I take it in. I take it seriously when Tony Bennett is telling me something.
Having great mentors assist you along your journey, how important is it for you to mentor those who seek wisdom and guidance?
It's funny, I don't know if other people have this happen to them, but it happens to me all the time where I think, "What do I have to teach anybody?" But there's always somebody who is coming up behind you who needs to know things that have become basic for you, and I find myself having conversations with people and not realizing that I'm actually mentoring them.
I think it's important, especially in the music industry, because there is so much that you don't know until you are down in the trenches. I think it's important to have people to talk to about it, and it's weird because in the music industry, everybody is doing their own thing and it's kind of a self-absorbed way to live. You're so busy all the time, and you're worried about you or you're worried about your crew—you might have 18 people on the road with you, and that's all you think about for two months.
There's not a sorority or fraternity for the music industry, though I think there should be, that could help a lot of people who go through things that are sometimes painful. When somebody asks me a question, I will give them everything I know because sometimes it's all you have. Most of the people in your life have never been on tour or don't know what it's like to have a whole bunch of personal stuff going on inside and still have to sing a happy song on TV at 6 a.m. because it's your single. Most of the people in an artist's life won't know what that's like even if they empathize with you and love you.
I'm here for whoever wants to talk and wish that I could do it more often and that people would ask me more. Whether it's about men, touring, money, managers, not just music, call me. I just want to put myself out there the way Stevie did for me. I wish there was a way, especially for women [artists], where we could be together and talk once a quarter or something. We have our parents and stuff, but it's different to have someone who loves you who does what you do. That's what my relationship with Stevie [Wonder] means for me.
In addition to running your own lifestyle/music brand SoulBird [launched in 2011], you also produce your own podcast. Are you continuing to produce that while on tour?
Yes, I took a break after the new year. Since I'm doing it on my own, I called the next round of shows "Season Two," so before this tour, I recorded six of them, and they'll come out while I'm on tour. I do it myself, on my laptop, and engineer the whole thing. It is call "SongVersation: The Podcast," and I love doing it. It goes back to your last question—it is a certain type of mentorship. It is based on music, but it's really not about the music but the wisdom behind the song and the process of recording the song and where it comes from.
I'm really just sharing my experiences and wisdom. I love doing this. I hope anybody who likes to talk about music and spiritual things, personal growth and how those things intertwine, that's what my podcast is about.
Follow India.Arie's podcast, "SongVersation," on Apple Podcasts, Google Podcasts and Anchor.