Homenclature: A Unique Furnishings Store Finds a Home in Carmel
May 2017
Writer / Ann Cinnamon
MERCHANTS SQUARE                                      
2150 E 116TH ST, CARMEL (Near Marsh Supermarket)
317-853-6733
MyHomenclature.com
If you've been looking for that one store to find one-of-a-kind furnishings and accessories to make your home stylish and unique, look no further; it now exists in Carmel. Homenclature recently opened in Merchant's Plaza on 116th Street and offers items that you won't find anywhere else. All items have been painstakingly collected by its owners Amanda and Shayne Snider.
After leaving a successful career in medical sales to have the couple's third child, Amanda gave birth to her brainchild, Homenclature, a
home furnishings store unlike any other. Amanda and Shayne had long considered owning a business, but the idea of a furniture store was spurred on by what Amanda believed was a lack of unique furniture and accessory options. She felt that the furnishings market was full of stores that looked the same inside and offered the same overpriced, poor-quality items.
Supported by Shayne, a high school history teacher and head football coach, Amanda set up some ground rules for the new business. They decided that they would borrow no money to start the business and would close it if not profitable. With that, Amanda began garbage-picking, flea-marketing, and re-purposing in preparation. Homenclature opened in May of 2008 in Munster, Indiana, near where Amanda and Shayne lived. Amanda says Homenclature offered something unique.
"Originally, our model was re-purposed and gently used, unique furniture in a modest 3,600 square foot space at the backend of a strip mall next to the local neighborhood bar. Though we had stockpiled inventory for nearly eight months prior to opening, we had sold everything in about the first two months," says Amanda. She began perusing Craigslist and visiting neighborhood garage sales, estate sales and auctions, collecting items to sell in the store. Eventually, Amanda used her sales experience and began cold calling warehouses, distribution centers, shipping companies and furniture manufacturers.
"As it turns out, there's a lot of broken stuff lying around in warehouses," she says. At first it was just a few pieces at a time, and then it was by the truckload as Amanda purchased salvage products. She and her repair man learned how to repair all types of furniture. Business was so brisk that the store quickly doubled in size.
In 2013, Amanda and Shayne closed the Munster store and opened a new one in a 30,000-square foot former wiper-blade factory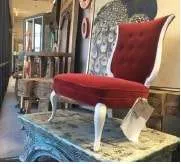 warehouse in Valparaiso. In five years the company had expanded from 3,600 square feet of space to almost ten times that. With constantly increasing sales and responsibilities, Shayne left his successful teaching career and resigned from his position as an assistant superintendent to join Homenclature in 2015. Within a year, they were looking to expand into the north side of Indianapolis and found an ideal location for their new store at Merchants Plaza in Carmel.
Amanda guarantees that a visit to Homenclature will be different than visiting your run-of-the-mill furniture store. "Customers can expect to find a unique, and eclectic hand-curated collection of quality items at aggressive pricing that is immediately available. The selection of items ranges from true one-of- a-kind pieces, re-purposed and reclaimed pieces, original art, prototypes, samples, overstock, chip-and- dent, well-known designers, and just flat-out good deals," she says.
Amanda says that they have found that customers do not want to wait to make their homes beautiful and are tired of seeing the same old stuff from store to store. "Clients have the ability to furnish their entire home from top to bottom in one store without looking like they bought everything at one place.
Your home's furnishings should be a direct reflection of your personality and show a history where awesome pieces are collected along the way," she says.
While Homenclature does offer a custom order program, most of their business is done right off the sales floor. White-glove delivery service is available as well as customer pick up. New items arrive every week and Homenclature transforms into a completely new store every month. Visit us online at www.myhomenclature.com