Dr. Chuck Dietzen: A Doctor in the House
PAID FOR BY DR. CHUCK FOR CONGRESS, INC.
May 2020
The upcoming 2020 Indiana Republican primary is probably one of the most closely watched as the battle for Indiana's 5th Congressional District seat wages on throughout the novel coronavirus (COVID-19) pandemic that has sieged the state's economy, workforce and health care system.
Never in our state's history has selecting a candidate with the right experience and ability to advocate on behalf of a wide breadth of Indiana's population been so imperative to the state's response to not only COVID-19 but also to its future and the impact this historical chapter will have on our state's future generations.
Meet Dr. Chuck Dietzen, "Dr. Chuck"
Dr. Chuck Dietzen, a Kokomo native and Zionsville resident, is a board-certified pediatric rehabilitation specialist. Dietzen—a lifelong Republican and Hoosier—is also an entrepreneur and is the founder of Timmy Global Health. Timmy Global Health—a 501(c)(3) nonprofit— is headquartered in Indianapolis and focuses on expanding health care—in the U.S. and abroad—while empowering its volunteers, students and health care professionals to combat global health challenges.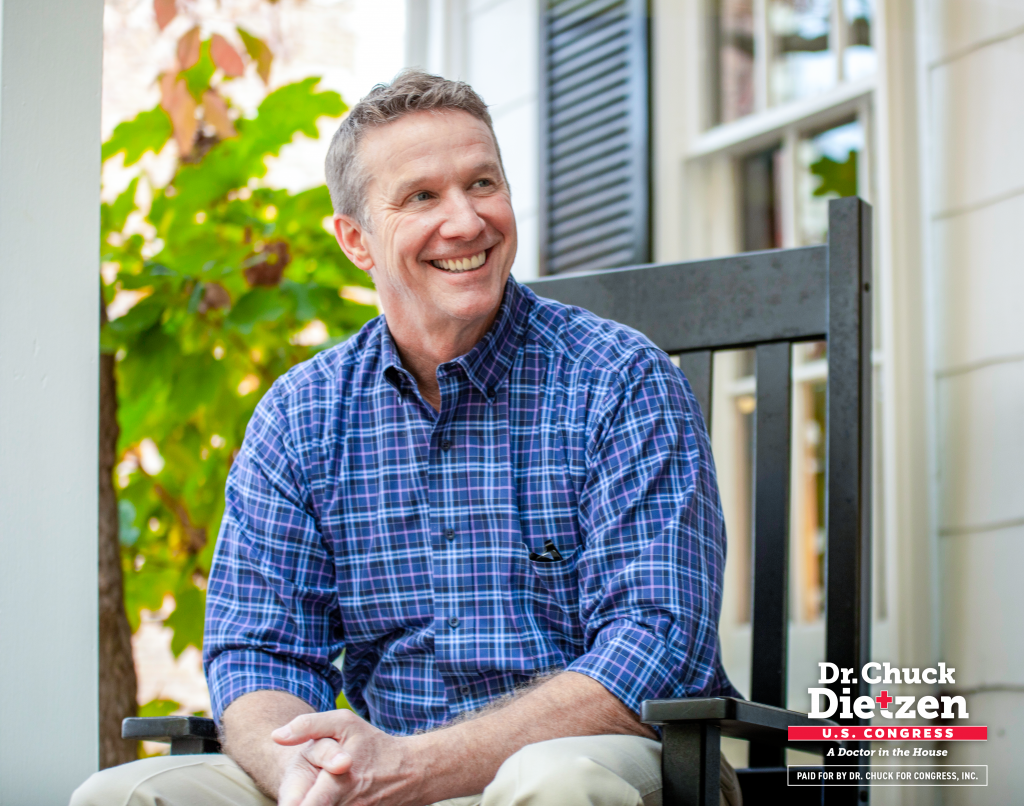 Dr. Chuck's values of faith, freedom and family and his sanctity for life stem from being raised by his parents who cared for 150 foster children from around the world, representing a myriad of ages, backgrounds, creeds, abilities and disabilities. His father was employed at the local Chrysler transmission plant, and having been reared in a working-class community, Dr. Chuck has firsthand experience of laboring on local farms and in industrial mills.
A distinguished alumnus of both Purdue University's School of Agriculture and Indiana University's School of Medicine, Dr. Chuck also holds the honor of being a Sagamore of the Wabash award recipient (2015). While these accolades speak volumes about Dr. Chuck's contributions to his Hoosier communities, it is his world-renowned care for the underserved—in the U.S. and abroad—and expertise in pediatric rehabilitation that sets him apart from his peers.
Blazing a Path for Improved Health Care
A product of his nurturing childhood, Dr. Chuck's passion to serve has led him to being recognized as one of the 50 Most Positive Doctors in America (1996) and Positive Doctors in America (2000). Dr. Chuck served as the chief of pediatric rehabilitation medicine at Riley Children's Hospital at IU Health and has written and/or consulted on several industry-related state and local policies throughout his career, helping pass Indiana's Medical Health Shield Act (HEA 1145, May 2015).
Exhibiting Dr. Chuck's entrepreneurial achievements, he co-founded iSalus Healthcare—a digital medical records and telehealth software company—paving the way for affordable, reliable and secure global telemedicine.
"Gov. Holcomb recently set forth a road map for reopening our state," Dr. Chuck stated. "As a businessman, I look forward to getting our economy back on track. As a physician, I challenge our nation to consider how we change our trajectory moving forward."
Dr. Chuck's Blueprint for America's Future Good Health
What is clear to Dr. Chuck is that Washington, D.C., is not working for us as Hoosiers and as Americans. As a medical doctor with a focus on preventive medicine, entrepreneur and your next congressman, Dr. Chuck will continue to roll up his sleeves and tackle the pressing issues head-on—COVID-19 related and beyond—combating real problems with real solutions.
"I have counseled many patients about improving their lifestyle choices," Dr. Chuck said. "Now, I would like our nation to consider my Blueprint for America's Future Good Health. We all must begin making lifestyle changes to be proactive rather than reactive."
Dr. Chuck continued, "Many of the lifestyle choices and leading causes of disease can be directly attributed to the family unit and the behaviors we were exposed to as children. Adverse Childhood Experiences (ACEs) have been proven to compound the issues most pressing on our individual health and straining our health care system. We need to care for our vulnerable children so they will grow up to be healthy, well-adjusted adults."
Dr. Chuck believes that all Americans play a part in the nation's overall health. He is running his campaign, in part, on strengthening the patient-doctor relationship and addressing mental illness as well as addiction, nutrition and exercise.
In addition to choosing healthy food and exercise, Dr. Chuck's "Blueprint" calls on Congress and the country's educational institutions to do their part in creating a healthier nation.
"There are several things we can do as a country to create a healthy population that leads to a healthy workforce and a healthy economy," Dr. Chuck explained. "My Blueprint for America's Future Good Health lists ways to build a foundation of good health:
"First, we need to better prepare our doctors to work with patients on the importance of diet and nutrition.
"Second, we need to address and educate on the issues related to Adverse Childhood Experiences (ACEs), so our future populations are less impacted by negative lifestyle effects and reactions to severe stress.
"Third, we can all do things to improve our health. I have enjoyed seeing families outside walking and biking during the pandemic. Be active doing things you enjoy while practicing social distancing."
Experience Matters on Indiana's Road to Recovery
We can look at Dr. Chuck's experience like three lanes on a major interstate, the interstate being Indiana's road to recovery from the insidious effects of COVID-19 that has crippled our state's economy and shaken many Hoosier's faith in leadership to their core.
The three lanes represent Dr. Chuck's experience with health care at both global and local levels, his experience with non-for-profits and his small business experience. All three lanes require unwavering leadership and the ability to guide. Dr. Chuck's strengths include the ability to focus and lead all three lanes with expert precision and humility.
The pandemic has become a part of our existence throughout our world, and as Americans, and Hoosiers, we are in the process of figuring out what the "new normal" will look like. Before our representatives sign our futures and our children's futures into law, we need to ensure that we have the leadership experience that Dr. Chuck possesses as well as a sense of empathy and a deep understanding of humanity that guides the decisions and actions of an individual like Dr. Chuck.
"Someone asked me the other day why I am running," Dr. Chuck shared. "I have worked my entire life—going back to age 7— to give children a high quality of life. And now my question is, 'Are we [as a nation] going to provide a future for them and a quality of life?' One thing I do know is that we must make sure that there is a future for our children. Politics and health care always intersect, and now, they have collided."
The global and local experience that Dr. Chuck brings to Indiana's 5th Congressional District—having witnessed and endured war-torn communities while providing medical aid to refugees as well as pandemic and financial ruin in 21 countries—are tactical lessons and wisdom that are unique to Dr. Chuck as a candidate. These are lessons that cannot be taught in a lecture hall. Dr. Chuck's knowledge and compassion will prove beneficial to representing Hoosiers in Washington.
Moving Our State and Nation Forward and the Importance of "Training Up"
"We are the United States of America," Dr. Chuck stated. "We are—in essence—50 small countries that from [our country's] inception were united. If you look at the European Union, they used to fight with each other on a fairly regular basis, and now they are trying to come together at this point in history. In the case of the USA, this unity is by design."
The health and success of Indiana's 5th Congressional District needs an advocate who understands the micro and macro economies, health care challenges and the ability to "train up" so that succeeding generations have the knowledge and fortitude to continue building upon the foundations that were built before them.
"Whether I was playing quarterback, was captain of the wrestling team, medical director or chief of staff in the pediatric rehab division, I always looked at who I was going to help lift up," Dr. Chuck said. "I am always looking for whom I am going to nurture to replace me. That's the whole concept of Timmy Global Health—how do I train up the next generation because this isn't about me. The kids that I have cared for throughout my career taught me that. None of this is about me but is all about the community. I am a big believer in servant leadership. I've never asked anyone to do something that they haven't seen me do. Another thing that I learned growing up with 150 foster children is that you have to love and accept people and learn how to work with them."
Dr. Chuck Representing Hoosiers on Capitol Hill
When asked if he will maintain his positions and advocate for the issues he ran his campaign on once he's in Washington, Dr. Chuck responded, "My heroes are the children and the people I've worked with in other countries who stood up to tyrants, who were helping the underserved and were imprisoned, tortured and, in some cases, killed. In honor and memory of them, I have to live my truth. I will continue to speak my truth. I have to make a difference for all the children and for the people who live and work in our district."
Dr. Chuck concluded, "We must lead by example as a country and as a state. These next two months will be telling. If we abide by Gov. Holcomb's restrictions, we can successfully limit the spread of COVID-19. This is not the first pandemic our nation has faced, and it will not be the last. We must do a better job of caring for ourselves and each other and implement healthy lifestyles early on to keep health problems from becoming chronic conditions. Even though we are six feet apart, we will get through this together."
For a more in-depth explanation of Dr. Chuck's Blueprint for America's Future Good Health and additional important campaign issues, such as defending liberties, life, immigration and more, visit drchuckforcongress.com.
Remember to vote for Dr. Chuck Dietzen on June 2 and as Dr. Chuck says, "We can do better—we must do better—please join me in our campaign to bring Hoosier values to Washington."