Custom Home Builder is Honored of Number One Ranking in State
August 2018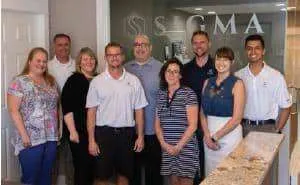 If you have been considering building your dream home but have been afraid of the process and not sure where to start, Sigma Builders has created an innovative approach that is unlike any in the industry. In fact, Sigma was just named the #1 Custom Home Builder by Home Builder Digest.
Sigma COO Dave Berman, who has been involved in the home building industry for more than 25 years, says they truly partner with potential
clients in a personalized and interactive way. The Sigma process starts by discussing market demographics, which includes such things as resale value and sale prices in a particular area.
"We counsel our clients using real time market data to ensure that investment in their home is appropriate for the location," he says.
After that, the design team launches into a high-tech interactive design process, just like on HGTV.
"We have 3D software where you can walk through the rooms and understand the spaces. This gives our clients an interactive, customized and personalized approach," says Berman.
He says Sigma does all this in a thorough and efficient manner, so the client would have a full picture of their home, including a closely accurate sales price, in just days versus months with the competition. Additionally, the design session is complimentary with no financial obligation while other builders typically require a deposit. "That's a unique approach," says Berman. "Not only do they get a customized plan that they
can see, touch and feel through the use of 3D imaging, but they also get well-defined specifications that are designed above the competition Thus our customers get "free" design of their dream home."
Berman says that other home builders will often give low entry-level pricing and then upcharge for the upgrades for things that most people would want in their home. "For us, we are very aware of what those items are, and if we think that the majority of people will expect to see that in a home, then we will include that in our standard features," he says.
Berman's partners at Sigma Builders are Kimberly and Peter Wang who have been involved in the home building industry for more than 10 years. Kimberly is the CFO, and her husband is involved on the entrepreneurial side of the business. Kimberly says there is no nickel and diming with Sigma. "Everyone is going to want something special in their house. We try to get 90 percent of what clients want in their house. Then they can add their unique 10 percent," she says.
Kimberly points out that Sigma utilizes IT throughout the building process to make the experience a real-time dynamic. "All of our customers have access to an app, so that they can see the building stages of their home and can provide their input directly," she says. "We use technology from beginning to end in the process."
"We are custom builders, and we want our customers to have their dream home on the perfect lot," says Berman. If you have a lot of your own, Sigma will build on it. If you do not, they have their own lots, or they will help clients locate their perfect home site.
Sigma's success shows in its rapid growth, now building in Brownsburg, Avon, Zionsville, Carmel, Westfield, Fishers, Indy, near Northside and in key custom neighborhoods such as Newark in downtown Carmel, Jackson's Grant at 116th and Springmill in Carmel, Bridgewater Club in Carmel, Brookside in Westfield, Cherry Tree Grove in Carmel, Brooks Park in Fishers, and New England Way in Avon and Surrey Park at 86th
& Springmill. Sigma is announcing a new 24 home community in the Village of Zionsville. Lot reservations are being taken now. Additional new areas will be announced soon.
In addition to a great warranty, Sigma also offers a list of complimentary items, such as an interior designer to work with through the process to ensure our customers vision for their home is achieved.
Berman says they also have a huge focus on responsibility to the communities in which they build. They sponsor events, such as Bike Carmel and Concerts at the Gazebo in Carmel,
and become a partner with the communities. "We have a very responsible, sustainable, community-embracing approach. That's what separates Sigma," he says. "Every single customer that has built with Sigma has communicated delight with their experience, and they can't wait to tell people about it. For us, that's the ultimate scorecard."
4630 Lisborn Dr, Carmel, IN 46033, USA (317) 203-3070